Recently, Tvardi Therapeutics announced that its oral small molecule STAT3 inhibitor TTI-101 has obtained fast channel qualification from the US FDA for the treatment of recurrent/refractory locally advanced, unresectable, or metastatic hepatocellular carcinoma (HCC).
Liver cancer is the sixth most common cancer in the world, with approximately 900000 patients diagnosed each year. Hepatocellular carcinoma is the most common form of liver cancer, with limited treatment options and overall poor survival prognosis, with a 5-year survival rate of approximately 18%.
TTI-101 is an oral small molecule STAT3 inhibitor. STAT3 is a key regulatory protein and has long been considered a major target in oncology. STAT3 plays a key role in the pathogenesis of HCC by promoting tumor formation and immunosuppressing Tumor microenvironment. Inhibiting STAT3 signal transduction is expected to have a synergistic therapeutic effect on cancer cells. In preclinical experiments, TTI-101 showed excellent pharmacokinetic characteristics, reduced pY705-STAT3 phosphorylation, and showed anti-cancer activity in animal models of Head and neck cancer, lung cancer, breast cancer, and liver cancer.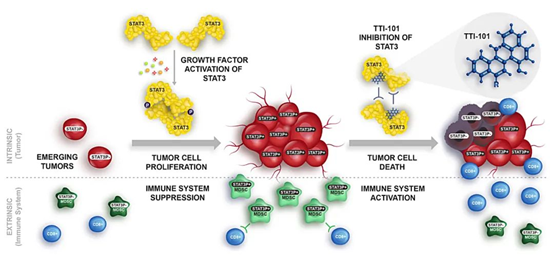 ▲ The mechanism of action of TTI-101 (Image source: Tvardi Therapeutics company website)
TTI-101 is currently undergoing its first human phase 1 clinical trial on patients with advanced solid tumors who have failed all treatments. As of now, TTI-101 monotherapy has shown good tolerance and clinical activity in a wide range of tumors, including multiple persistent radiological objective remissions.
The rapid channel qualification of TTI-101 will promote the rolling review of clinical data and ultimately shorten the application review time for approving TTI-101 for HCC patients. Previously, TTI-101 has obtained the qualification of Orphan drug for the treatment of hepatocellular carcinoma and Idiopathic pulmonary fibrosis.
We are pleased that the FDA has granted TTI-101 fast track qualification for the treatment of HCC, "said Dr. Imran Alibhai, CEO of Tvardi, This is a convincing recognition of the safety and efficacy we saw in the first-line HCC patients in the trial. Obtaining the fast track qualification is a perfect opportunity as we are about to start recruiting patients for the second-line HCC basket trial, which will test the effectiveness of TTI-101 as a monotherapy or in combination with existing approved therapies in first-line, second-line, and second-line HCC patients
reference material:[1] FDA Grants Fast Track Designation to Tvardi Therapeutics' TTI-101 for Hepatocellular Carcinoma. Retrieved October 19, 2022, from https://tvarditherapeutics.com/2022/10/19/fda-grants-fast-track-designation-to-tvardi-therapeutics-tti-101-for-hepatocellular-carcinoma/
Disclaimer: WuXi AppTec content team focuses on introducing global biomedical health research progress. This article is only for the purpose of information exchange. The views in this article do not represent WuXi AppTec's position, nor do they represent WuXi AppTec's support or opposition to the views in this article. This article is not a recommended treatment plan. If you need guidance on treatment plans, please go to a reputable hospital for medical treatment.
Copyright Notice: Lianchuang Biomedical publishes original and reprinted articles. The purpose of reprinting articles is to recommend valuable information and share it with more friends. We respect intellectual property rights, are committed to protecting intellectual property rights, and do our best to indicate the author and source. If there are copyright issues with the articles, images, and other content we reprint, please contact us at 0551-68596228. We will do our best to contact you as soon as possible and handle them promptly. Sincerely thank you for your understanding and assistance!